Hello,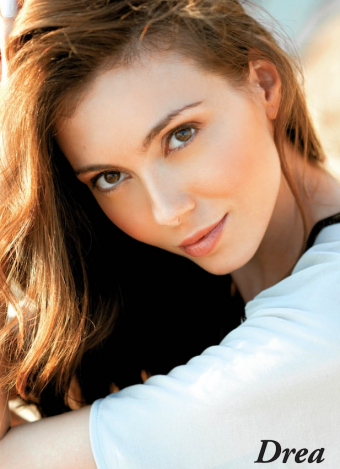 My name is Drea Vujovic, and I would like to welcome you to my model placement website! Drea Model Placement is different from traditional modeling agencies for our role is to find, develop, educate, prepare and finally place models with the best modeling agencies in the world.
My career began at the young age of 16 when I was discovered in a shopping mall by a top American model scout. I signed my first contract in New York and I have been modeling ever since. Modeling has taken me all over the world where I appeared in countless campaigns, commercials, magazines, runway shows and television. I was also a finalist in the first season of Project Runway Canada hosted by supermodel Iman.
With my passion and love for the modeling business, I branched out using my experience and skills to become Toronto's most sought after runway coach and model mentor. I have been credited as the key to a new face's exposure on the catwalk.
After being a runway coach and model mentor for many years the next natural step was to start my very own model placement agency.
The modeling business is a very competitive one, driven by youth, and it is easy to get lost and miss out on opportunities due to poor management.
I was lucky enough to have been managed by Chantale Nadeau Model Placement for the past 7 years in Toronto, Canada. Chantale has not only been the best manager for myself and so many other models, but she has also been a great mentor in helping me plan Drea Model Placement.
Who better to develop, train and plan a model's future than a model who has had a successful modeling career?
Zdravo,
Moje ime je Drea Vujovic, i želim vam dobrodoslicu na moju model placement web stranicu!
Drea Model Placement se razlikuje od tradicionalnih modnih agencija, jer se trudimo da razvijamo, obrazujemo, pripremamo i konacno plasiramo modele u okviru najboljih modnih agencija u svetu.
Moja karijera je pocela kada sam imala samo 16 godina, kada me je top Americki model skaut otkrio u tržnom centru. Potpisala sam svoj prvi ugovor u New York-u i od tada se bavim manekenstvom. Moja karijera me je vodila širom sveta gde sam radila brojne revije i pojavila se u brojnim kampanjama, casopisima kao i na televiziji.
Takode, ucestvovala sam u prvoj sezoni "Project Runway Canada," sa top modelom Iman.
Sa ljubavlju prema manekenstvu, proširila sam svoje iskustvo i veštine i postala najtraženiji trener za modnu pistu i mentor za mlade manekenke.
Nakon što sam trenirala mlade manekenke za pistu I bila im mentor, dugi niz godina, moj sledeci prirodan korak bio je da osnujem svoju agenciju u BeograduSvet modelinga je veoma konkurentan, vođen od strane mladih, što može dovesti do toga da se lako izgubite i propustite prilike zbog lošeg upravljanja.
Mogu se smatrati jako srecnom što sam imala priliku da mi Chantale Nadeau Model Placement bude menadžer poslednjih 7 godina u Torontu. Chantale nije bila najbolji menadžer samo meni, vec i mnogim drugim modelima, a takode je bila i veliki mentor planiranju i organizovanju Drea Model Placement.
Ko može bolje da razvija, trenira i planira buducnost mlade manekenke, nego manekenka koja je imala uspešnu karijeru?
Check out my interview for Male Model Scene Magazine MMSCENE 016 – JULY 2017 ISSUE here.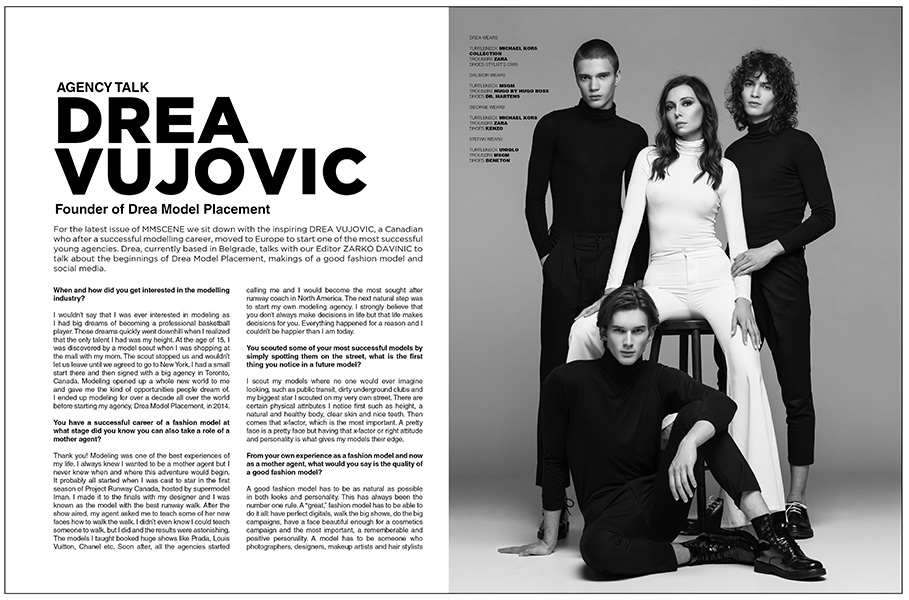 "Founded by former model, Drea Vujovic, Drea Model Placement is a mother agency managing both commercial and editorial models from Serbia and other European countries. Drea Model Placement provides the best model management and builds lasting modelling careers by personally developing, educating and placing models with top agencies worldwide."

"Agencija Drea Model Placement radi kao zastupnička agencija za manekene i manekenke iz Srbije i drugih evropskih zemalja koji žele da se ostvare kroz profesionalnu karijeru u oblasti komercijalne ili visoke mode. Agenciju je osnovala i vodi nekadašnja manekenka Drea Vujović. Drea Model Placement pruža svojim manekenkama i manekenima najbolje uslove za razvoj njihove profesionalne karijere na njihovm putu do angažmana u vodećim agencijama širom sveta, kroz savete za razvoj ličnosti i stručnog usavršavanja."

Check out the BECOME A MODEL section and contact me if you want to become a model.
Pogledajte deo POSTANI MODEL i kontaktirajte me ukoliko zelite da postanete model i odgovarate zadatim kriterijumima.
info@dreavu.com
+381-69-106-0066 (Serbia)